Highlights:
2 days ago
Matt Davidson gives back to Best Buddies
Yucaipa's own Matt Davidson, of the Chicago White Sox, returns to Yucaipa High School to give back to Yucaipa's Best Buddies program. Watch as Matt and other major league players play a friendly game of baseball with Yucaipa's Best Buddies.
Keep in Touch...
Use our new communication tools to keep in touch with your child's school, activities and important information.
SAVE THE DATES!

Join us for the following Yucaipa-Calimesa Community events:
Cyberbullying & Social Media
Alcohol/Substance Abuse
Inaugural Forum for Healthy Minds

Yucaipa-Calimesa Joint Unified School District (YCJUSD) is proud to join with the community to raise awareness of and support mental health issues and suicide prevention. It was a day full of great workshops and an incredible resource fair designed to promote Healthy Minds and Hope within our community.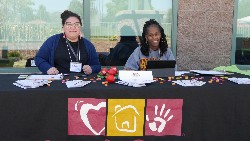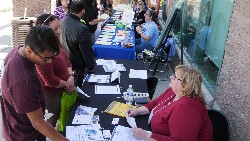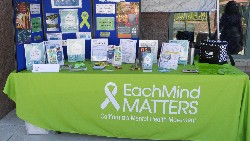 Congratulations to Green Valley High School for Being Named a Model Continuation School by the California Department of Education!
YCJUSD employees completed the first in-district Community Emergency Response Team (CERT) training on February 3rd.

Students from the YHS Law and Public Safety Academy assisted by being "victims" during the mock disaster scenario that ends the training. Thank you to district trainers Lucia Hudec and Julie Beck for coordinating the successful event.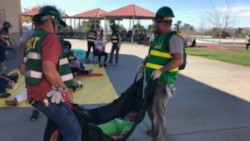 2017-2018 California League of Middle Schools (CLMS) Region 10

Educator of the Year Finalist
Congratulations to Park View Middle School teacher Brittany Bay for being selected as a finalist for the CLMS Region 10 Educator of the Year. She is an educator who exemplifies educational excellence and has made significant efforts to implement elements of educational reform at Park View Middle School. Mr. Tucci, Park View Middle School principal wrote the following in Ms. Bay's nomination letter, "There is no other team player at PVMS who exemplifies the willingness to reach out to students in a variety of ways to help them connect to their school. Her excitement for the connection with kids is unmatched at our school."
Gold Bell Award – A Night in the Trenches
Congratulations to Yucaipa High School teachers John Taylor and David Paul for earning a California School Boards Association (CSBA) Golden Bell. The CSBA Golden Bell Awards promotes excellence in education and school board governance by recognizing outstanding programs and governance practices of school boards in school districts and county offices of education throughout California.
A Night in the Trenches is a simulated experience for students in Yucaipa High School. From 5 p.m. until the sun rises the next day, two teams of students go on "missions." Activities include fighting battles, spying on each other, plotting stratagems and binding each other's "wounds." A winner is determined based on points earned for the missions. They have only their uniforms and some rations (no phones!) for the whole night. Students who have experienced this event say that it's life-changing; some decide that history will be their college major, and most show increased interest in, and therefore achievement in, their European and US History courses.
Community Facilities Districts Annual Reports

SARC

Parent-Student Notifications / Notificaciones para Padres-Estudiantes

Nondiscrimination-Harassment

Title IX Information

School Locator - Find your school of attendance

Trustee Area Election Information

E-rate Documents
Local Control and Accountability Plan (LCAP)
3 months ago
The Yucaipa-Calimesa Joint Unified School District (YCJUSD) Board of Education recently approved the 2018-2019 Local Control and Accountability Plan (LCAP). The LCAP is the district's process for setting goals, planning actions, and leveraging resources to meet those goals to improve student outcomes. Parents, families and community members participated in the development and evaluation of our school district's LCAP.
Click here for the 2017-2020 YCJUSD LCAP (9.6.18)
Superintendent's Welcome
4 months ago
Superintendent's Welcome
Welcome to the Yucaipa
-
Calimesa
Joint Unified
School District 2018-2019 School Year! Our team is dedicated to providing a safe, fun, rigorous and innovative learning environment for your child. We work as a team to ensure that every day we provide an environment that supports learning.
Our maintenance team and custodians are involved daily in ensuring teachers and children have a clean, safe place to learn. The Child Nutrition team has student taste testers to ensure the food being served is top notch and
delicious
. Our
nutritionist
can answer any questions you m
ay
have about our
healthy
meals.
Principals and assistant principals are supporting their school teams in maintaining safety protocols, the educational programs
,
and meeting the needs of each individual student. The office support team will cheer your students on as they come to school to learn each day and help parents to get timely answers to questions and maintain communication with our stakeholders.
Our VIP team of teachers, counselors and paraprofessionals
are here
every day to support your child in learning, growing and becoming a successful graduate and citizen.
Supporting the school sites are our district office team members who are also dedicated to the YCJUSD team of students, parents,
and
employees. Join our site and district teams by participating in parent activities, classes, committees and PTA! The Family Learning Center is a resource for parents to learn and navigate the TK-12th grade experience. Take advantage and if you have any questions
,
please call you school site or the district office, or email us at:
contact_us@ycjusd.us
YHS Academies Achieve Linked Learning Silver Certification
28 days ago
We are thrilled to announce that ALL THREE of the YHS Linked Learning Academies- Engineering, Health and Biomedical Sciences, and Law and Public Safety- are now Linked Learning Silver Certified. Linked Learning Certification is a standard of excellence for college and career preparation. Achieving Silver Certification demonstrates that our pathways have integrated academics with sequenced technical training, feature meaningful work-based learning, and includes effective supports for students.
This academic year, our academy enrollment reached 863 students in all three academies. We are also partnering with many business and organizations including Sorenson Engineering, Adrian-Gaus Engineering, Yucaipa-Redlands Urgent Care, Arrowhead Regional Medical Center, Cal Fire Station 552, and San Bernardino County Sheriff's Department to provide students with work-based learning opportunities in their chosen career fields. The pathway teams are continuing to carefully measure student progress, which will inform future improvements in our college and career pathways at YHS.
Reaching Silver Certification is a significant accomplishment for our students and staff, and we look forward to continued progress in preparing all students for college and career. Our YHS Academies are three of the five pathways certified silver in San Bernardino County and the first school to have all their pathways certified silver in the county!
Crisis Resources for Parents and Students