Highlights:
25 days ago
Teacher of the Year Finalist - Rebecca Peterson
California League of Middle Schools
Park View Middle School celebrates Mrs. Rebecca Peterson as she is named Finalist in the California League of Middle Schools Teacher of the Year, 2016.
Congratulations, Mrs. Peterson!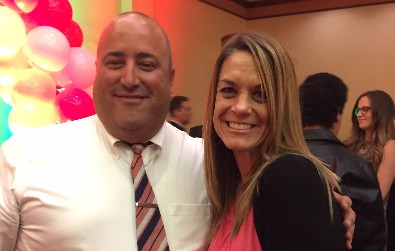 WES First Grade Performs for Seniors


First Grade students at Wildwood Elementary perform for residents of Wildwood Canyon Villa. The seniors from Wildwood Canyon Villa were treated to an outing to Wildwood Elementary where they had the pleasure of being entertained by the students.





Students in Mrs. Petite's class at CECA demonstrate the spirit of giving as they participate in a Toy Drive.
"We can change the definition of a school if we follow our kids." -Mrs. Petite
Community Facilities Districts Annual Reports

SARC

E-rate Documents & Information
Superintendent's Welcome
about 1 month ago
W
elcome to the Yucaipa-Calimesa School District! Our district is a part of a great community where family is important. Our YCJUSD family is here to support every student that comes to us and provide them with a great learning experience. Our goal is to engage students, parents and the community in education. This partnership provides every opportunity to support our students in reaching their highest potential.
The Cities of Yucaipa and Calimesa are unique and provide partnerships in many ways. Service organizations and foundations support many scholarships. Local business supports opportunities for high school students to participate in internships and provide our teachers externship to better support a curriculum that is project based. The Superintendent's Community Cabinet is a community based group of volunteers who provide input and support the District's goals. Most of our employees live locally and there is a great deal of pride taken in their work.

We strive to serve students in their best setting. We offer a variety of programs from homeschooling options and independent study to many specialized programs. STEM (Science Technology Engineering and Math), AVID (Advancement Via Individual Determination), Blended Learning, a variety of after school clubs and sports, International Baccalaureate and at Yucaipa High School, the opportunity to learn in an engineering, health and biomedical sciences, and law and public safety academy are just a few of the options offered.
If you would like any additional information about programs, schools or opportunities to be involved, we would be happy to assist you. The 2016-17 school year will be the best yet.

Cali Binks, Superintendent
Local Control and Accountability Plan (LCAP)
3 months ago
The Yucaipa-Calimesa Joint Unified School District (YCJUSD) has revised the Local Control and Accountability Plan (LCAP). The LCAP is intended to be a comprehensive planning tool to help all students succeed. Parents, families and community members participated in the development and evaluation of our school district's LCAP.
Click here for the 2016-2019 LCAP (Board Approved - June 28, 2016)

CanSat Launch at MVMS
3 months ago
On Tuesday, October 18, with perfect weather, students had the opportunity to learn about launching a satellite and tracking the data it provides. Ted Tagami, CEO of Magnitude.io, the company providing the launch, satellite, recovery, and data gave students an overview of the process at an assembly in the morning. The successful CanSat launch lifted off at 11:20, almost the entire school was there. Mesa View students assisted in getting the weather balloon filled with helium and safely in the air.
2017 YCJUSD Teacher of the Year!
3 months ago
The Yucaipa-Calimesa Joint Unified School District was pleased to announce at our beginning of the year kick-off celebration the YCJUSD 2017 Teacher of the Year, Mr. Ken Hall. Ken has worked all of his teaching career in our district. He began at Ridgeview Elementary and then moved to Valley Elementary. For the last nine years, Ken has worked Chapman Heights Elementary teaching Kindergarten. School has always been important to Ken, as a child and as an adult. It is a place to meet new people, make friends, learn so much and share experiences. He has demonstrated his commitment to be a continual learner by building a Professional Learning Network through Voxer, Facebook and Twitter. He connects with colleagues not just in our district but throughout the world with his technology connections. Ken says, "As a teacher, I find success in my students every day and give them feedback to help them grow. I have so much fun teaching, it helps my students to have fun learning."
As YCJUSD's Teacher of the Year, Ken moved on to participate in the San Bernardino County Teacher of Year process and was also a County winner. Congratulations to Ken Hall on becoming not just our Teacher of the Year but also one of the County's Teachers of the Year.
Being the Difference in YCJUSD Elementary Schools
2 months ago
YCJUSD is pleased to host "Be The Difference", a bullying prevention program for students in 2nd through 5th grades. All district elementary schools are participating in the program through a partnership with the San Bernardino Community College District. "Be The Difference" enhances and supports existing programs to prevent bullying behavior in our schools. Provided by Joel Greene, host of the PBS television show "Curiosity Quest", this program includes an assembly and series of follow-up activities designed to help our students understand bullying behaviors and "be the difference" in preventing acts of bullying on our campuses.