Newsmirror Article of the Week:
Green Valley High School class of 2020 graduation
Green Valley High School's Class of 2020 commencement was included in the virtual collaborative graduation ceremony, taped at Yucaipa High School on May 20 and 21. It will go live on June 3, at 7 p.m.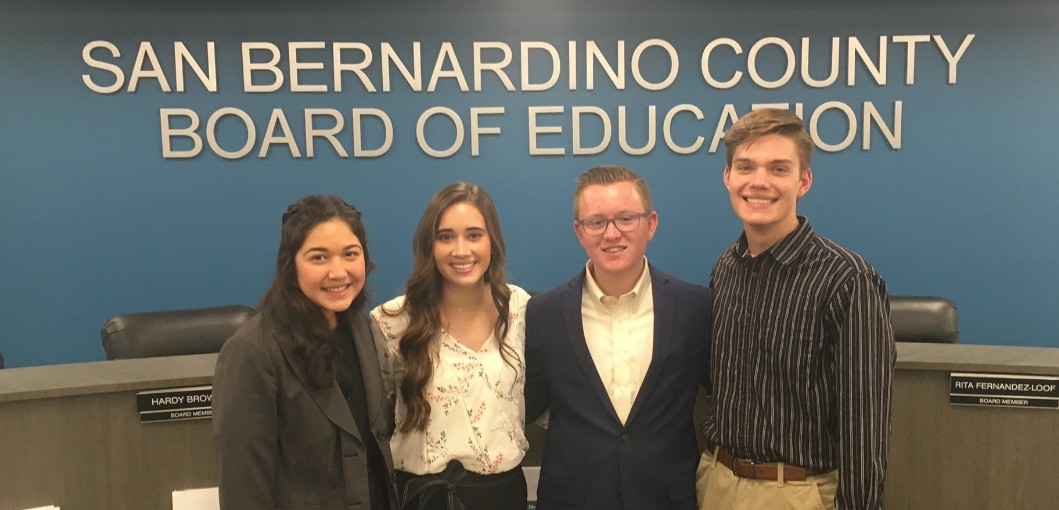 Mar. 2, 2020 - Students Brielle Lara, Atalie Bogh, London Patriquin and Hunter Scullin represent YHS at the annual San Bernardino County Student Advisory Panel.
Newsmirror article of the week:

YHS

Champions highlight cif southern section wrestling at carter high
Feb. 23, 2020 - Yucaipa High School boys wrestling qualified all 14 varsity wrestlers to compete in the CIF Southern Section Eastern Division Championships this past weekend.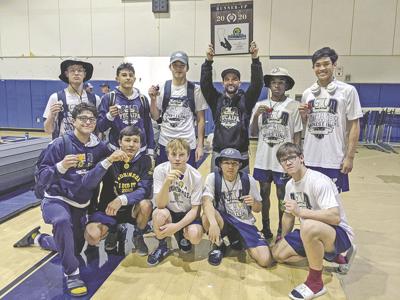 Ca State superintendent applauds the 2020 kindness challenge
Newsmirror article of the week:

YHS

GIRLS BASKETBALL TEAM FIRST IS OFF TO A GREAT START
Jan. 10, 2020 - Having graduated four seniors after the 2018-19 season taking most of the height on the team with them, the Yucaipa High School girls basketball team needed to take a little different approach this year.
Newspaper Article of the week:
Yucaipa-Calimesa's 'singing custodian' calls it a

career after 39 years
Valley Elementary School gave him an oldies-fueled sendoff Friday morning, Nov. 22.
Newsmirror article of the week:

YHS

cross country teams first in Citrus Belt League Championships
Nov. 15, 2019 - The Yucaipa High School cross country team took three first-place spots and dominated the Citrus Belt League this season. Both girls and boys Varsity teams will move on to the CIF Prelims on Nov. 15 in Riverside.
Newsmirror article of the week:

YHS tennis team melds cross-section of students into a successful formula
Oct 28, 2019 - Among the 2019 version of the 2019 Yucaipa High School tennis team are a mixture of personalities that come from across the nation and across the planet. The formula has worked as the Thunderbirds have a 12-2 record and are 6-1 record thus far in Citrus Belt League and has assured itself of postseason play.
MVMS Annual Robotics
Oct. 2019 -Mesa View's annual robotics scrimmage has grown to 20 teams and over 250 people. Teams come from away as Temecula and Fontana for a great day of fun and competition!
YHS ASB Helps to Raise Money in Support of Families Affected by the Sandalwood Fire
Yucaipa High School Associate Student Body is raising money to present to the Family Promise Adopt a Family program. Support those families affected by the Sandalwood fire by donating online. Click here.
El Cuerpo Estudiantil Asociado de la Preparatoria Yucaipa está recaudando dinero para presentar al programa Family. Apoye a las familias afectadas por el incendio del sándalo donando en línea. Click here.
Congratulations Christine McLaughlin who was celebrated as the 2020 YCJUSD Teacher of the Year at the district "Around the World and Home Again" themed Kick off Event! Christine is currently a 4th-grade teacher at Competitive Edge Charter Academy.
Nisl
Executive Development program
The end of the training occurred on September 26, 2019, for a cohort of administrators participating in the National Institute for School Leadership (NISL) Executive Development Program (EDP). Congratulations to the following YCJUSD administrators who recently completed the EDP: Leslie Burghardt, Frank Tucci, Eric Vreeman, and Jaime Anderson.
Medical Professionals Visit HBS Academy Students
Oct. 2, 2019 - 10th and 12th-grade Health and Biomedical Sciences Academy students had medical professionals visit their classes today. 12th-grade students were going through Workplace Wednesday in their ERWC class and having to talk through conflict resolution when one nurse didn't complete their tasks during the shift. 10th-grade students were working on creating models of muscle contractions. Advisory Board members were able to talk with students about their projects and their scenarios and give feedback and insights.
College Boot Camp @ YHS
Sept. 24, 2019 - Parents and students attend the 10th and 11th-grade College Applications Bootcamp workshop presented by Cecilia E. Johnson. This informational workshop covered the aspects of the college application process, including organization, college choice strategies, college and scholarship applications, essays, college admissions offers, and financial aid.
Senior HBS students receive their white coats
August 23, 2019 - Senior Health and Biomedical Sciences Academy students received their White Coats from academy teachers on Friday afternoon. These students are currently in their 4th year of the HBS Academy and are learning more about careers in the health care profession in order to make their decisions about their post-secondary plans. Congrats to the HBS Class of 2020!
Ridgeview Elementary wins $1,000 prize
August 2019 - Students from Ridgeview Elementary participated in the 66ers Hit the Books Reading Program, which is a reading incentive program targeted towards elementary level students. This fun and exciting program highlights the importance of reading, while also showing students reading is fun! Ridgeview Elementary was one of the top three schools that read the most books, taking 3rd place and winning a $1,000 cash prize for their school! Congratulations to the students from Ridgeview who participated.
Keep in Touch...
Use our new communication tools to keep in touch with your child's school, activities and important information.