Highlights:
fifth annual yucachella
District-wide talent show!
Keep in Touch...
Use our new communication tools to keep in touch with your child's school, activities and important information.
SAVE THE DATES!

Join us for the following Yucaipa-Calimesa Community events:
Cyberbullying & Social Media
Alcohol/Substance Abuse
Inaugural Forum for Healthy Minds

Yucaipa-Calimesa Joint Unified School District (YCJUSD) is proud to join with the community to raise awareness of and support mental health issues and suicide prevention. It was a day full of great workshops and an incredible resource fair designed to promote Healthy Minds and Hope within our community.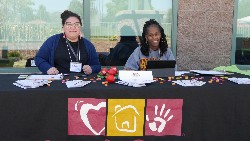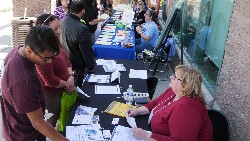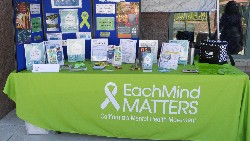 Congratulations to Green Valley High School for Being Named a Model Continuation School by the California Department of Education!
YCJUSD employees completed the first in-district Community Emergency Response Team (CERT) training on February 3rd.

Students from the YHS Law and Public Safety Academy assisted by being "victims" during the mock disaster scenario that ends the training. Thank you to district trainers Lucia Hudec and Julie Beck for coordinating the successful event.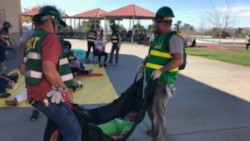 2017-2018 California League of Middle Schools (CLMS) Region 10

Educator of the Year Finalist
Congratulations to Park View Middle School teacher Brittany Bay for being selected as a finalist for the CLMS Region 10 Educator of the Year. She is an educator who exemplifies educational excellence and has made significant efforts to implement elements of educational reform at Park View Middle School. Mr. Tucci, Park View Middle School principal wrote the following in Ms. Bay's nomination letter, "There is no other team player at PVMS who exemplifies the willingness to reach out to students in a variety of ways to help them connect to their school. Her excitement for the connection with kids is unmatched at our school."
Gold Bell Award – A Night in the Trenches
Congratulations to Yucaipa High School teachers John Taylor and David Paul for earning a California School Boards Association (CSBA) Golden Bell. The CSBA Golden Bell Awards promotes excellence in education and school board governance by recognizing outstanding programs and governance practices of school boards in school districts and county offices of education throughout California.
A Night in the Trenches is a simulated experience for students in Yucaipa High School. From 5 p.m. until the sun rises the next day, two teams of students go on "missions." Activities include fighting battles, spying on each other, plotting stratagems and binding each other's "wounds." A winner is determined based on points earned for the missions. They have only their uniforms and some rations (no phones!) for the whole night. Students who have experienced this event say that it's life-changing; some decide that history will be their college major, and most show increased interest in, and therefore achievement in, their European and US History courses.