Highlights:
CECA Archery Team claims the #1 and #4 archers in the Nation!

May 2019 – 8th grader and second-year archer, Dillon Griswold, gave spectacular performances at the Regional, State and National competitions ranking in the number one spot for all three and securing the National Championship with an amazing 357 points out of 360. Matthew Griswold ranked 4th in the Nation with a score of 351. These impressive wins were enough points to grant CECA as a school, a 2nd place National placement. Eight of CECA's other team members ranked from 17th through 84th place in the National competition.
---------------------------------------------------------------------------------------------------------------------------
2019 YCJUSD cLASSIFIED EMPLOYEES OF THE YEAR
April 23, 2019 – Congratulations to the 2019 YCJUSD Classified Employees of the Year who were recognized at the April 23rd Board meeting! Arisve Barriga, Bilingual Parent Engagement Specialist, Educational Services; Jenny Morton Child Nutrition Lead from Wildwood Elementary; Michelle Knapp, Attendance/Clerk Typist from Valley Elementary; Jennifer Kelly, Health Assistant from Calimesa Elementary; and Patrick (Sean) Heeney, Skilled Maintenance Irrigation from Maintenance, Operations and Facilities. We appreciate all they do to support our students, staff, and families.
2019 SIM SCIENCE AND ENGINEERING FAIR
April 4, 2019 - Students from YCJUSD receive awards following the 37th annual (SIM) Science and Engineering Fair. The San Bernardino, Inyo and Mono Counties (SIM) Science and Engineering Fair is an annual competition of science projects designed, developed and displayed by elementary and secondary students from schools in each county.
Award Recipients:
Selena Wisegarver - Dunlap ES, silver medal Rhett Bogh - Mesa View MS, bronze medal Kadence Button - Ridgeview ES gold Russell Koger Ridgeview ES silver Matthew Fogel - YHS, bronze medal; NOAA Taking the Pulse of the Planet Award recipient
Wildwood Family Astronomy Night
3/14/19- Over 100 people were in attendance for Wildwood's Family Astronomy Night. With the assistance of the San Bernardino Valley Amateur Astronomy Club, as well as Mike Matteson from YHS, the night was out of this world.
PVMS Students Accept the gram
MARCH

Challenge

Mar. 1- Students at Park View Middle School take on the English gramMARCH challenge to write using proper grammar, full sentences and use entire words in all forms of written communication. To kick off the challenge, PVMS held a festival where the English classes created games in correlation to the challenge. Students had so much fun learning English!

STEM Family Night Challenge @ MVMS March 5!
Where: Mesa View Middle School


2019 Kindness Certified School District
We are proud to announce that all Yucaipa-Calimesa Joint Unified School District schools are Kindness Certified! Thank you for making such a positive difference at your school, your community and in our world. There's no doubt about it, your KINDNESS MATTERS! It is our desire to revisit Kindness week every year.



Celebrate the Great Kindness Challenge
January 28 - February 1



YHS Thunderbird Marching Regiment @ Disneyland
Jan. 23, 2019 - The YHS Thunderbird Marching Regiment participated in the Disneyland Community Arts Showcase for the 7th year in a row. Our students did a great job representing the school and community!

YHS Linked Learning Academy Enrollment
High school students from outside of the Yucaipa-Calimesa Joint Unified School District who are interested in being included in the Linked Learning Academies Lottery Process for Registration for the 2019/2020 school year must have their transfer paperwork into Educational Services at the District Education Center by April 15, 2019. Any transfers received after the date of 4/15 will either be placed in the academies if space is available or on the waitlist for the chosen academy. If you have questions, please contact Heather Aguilar at heather_aguilar@ycjusd.us.
The Soles 4 Souls shoe drive was a huge success. Our middle school and high school students collected over 2,500 pairs of shoes!
YCJUSD SCHOOLS RECEIVE RECOGNITION FROM THE CALIFORNIA PBIS COALITION AND SBCSS
The California PBIS Coalition provides recognition awards for outstanding work with Positive Behavior Interventions and Supports (PBIS) to improve the culture on a school campus for students and staff. PBIS is a systems-based, multi-tiered framework for establishing the social culture and behavioral and academic achievement and success. The framework is evidence-based and data-driven.
Evidence-based features of PBIS:
Prevention

Define and teach positive social expectations

acknowledge positive behavior

Arrange consistent consequences for problem behavior

On-going collection and use of data for decision-making

Continuum of intensive, individual intervention supports both academically and socially

Implementation of the systems that support effective practices
In the YCJUSD, school sites have been participating in PBIS training and framework implementation for the past nine years at all grade levels. A recent awards ceremony was held at the Victoria Gardens Cultural Center in Rancho Cucamonga which was hosted by the San Bernardino County Superintendent of Schools' (SBCSS) PBIS program division.
YCJUSD schools receiving recognition from the California PBIS Coalition and SBCSS are as follows:
Bronze Level Recognition: Park View Middle School

Silver Level Recognition: Calimesa Elementary School, Dunlap Elementary School, Valley Elementary

Gold Level Recognition: Wildwood Elementary School
Matt Davidson gives back to Best Buddies
Yucaipa's own Matt Davidson, of the Chicago White Sox, returns to Yucaipa High School to give back to Yucaipa's Best Buddies program. Watch as Matt and other major league players play a friendly game of baseball with Yucaipa's Best Buddies.
Keep in Touch...
Use our new communication tools to keep in touch with your child's school, activities and important information.
Inaugural Forum for Healthy Minds

Yucaipa-Calimesa Joint Unified School District (YCJUSD) is proud to join with the community to raise awareness of and support mental health issues and suicide prevention. It was a day full of great workshops and an incredible resource fair designed to promote Healthy Minds and Hope within our community.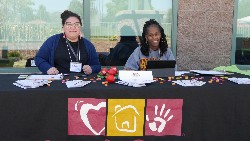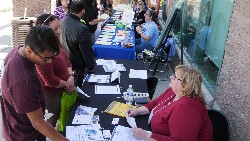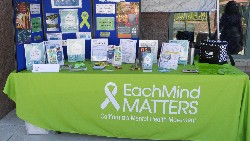 Congratulations to Green Valley High School for Being Named a Model Continuation School by the California Department of Education!
YCJUSD employees completed the first in-district Community Emergency Response Team (CERT) training on February 3rd.

Students from the YHS Law and Public Safety Academy assisted by being "victims" during the mock disaster scenario that ends the training. Thank you to district trainers Lucia Hudec and Julie Beck for coordinating the successful event.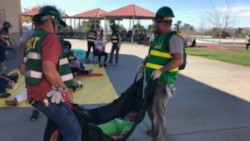 Click on the video above to see the 2018 YHS girl's soccer playoff video.
2017-2018 California League of Middle Schools (CLMS) Region 10

Educator of the Year Finalist
Congratulations to Park View Middle School teacher Brittany Bay for being selected as a finalist for the CLMS Region 10 Educator of the Year. She is an educator who exemplifies educational excellence and has made significant efforts to implement elements of educational reform at Park View Middle School. Mr. Tucci, Park View Middle School principal wrote the following in Ms. Bay's nomination letter, "There is no other team player at PVMS who exemplifies the willingness to reach out to students in a variety of ways to help them connect to their school. Her excitement for the connection with kids is unmatched at our school."
Gold Bell Award – A Night in the Trenches
Congratulations to Yucaipa High School teachers John Taylor and David Paul for earning a California School Boards Association (CSBA) Golden Bell. The CSBA Golden Bell Awards promotes excellence in education and school board governance by recognizing outstanding programs and governance practices of school boards in school districts and county offices of education throughout California.
A Night in the Trenches is a simulated experience for students in Yucaipa High School. From 5 p.m. until the sun rises the next day, two teams of students go on "missions." Activities include fighting battles, spying on each other, plotting stratagems and binding each other's "wounds." A winner is determined based on points earned for the missions. They have only their uniforms and some rations (no phones!) for the whole night. Students who have experienced this event say that it's life-changing; some decide that history will be their college major, and most show increased interest in, and therefore achievement in, their European and US History courses.